Expo Team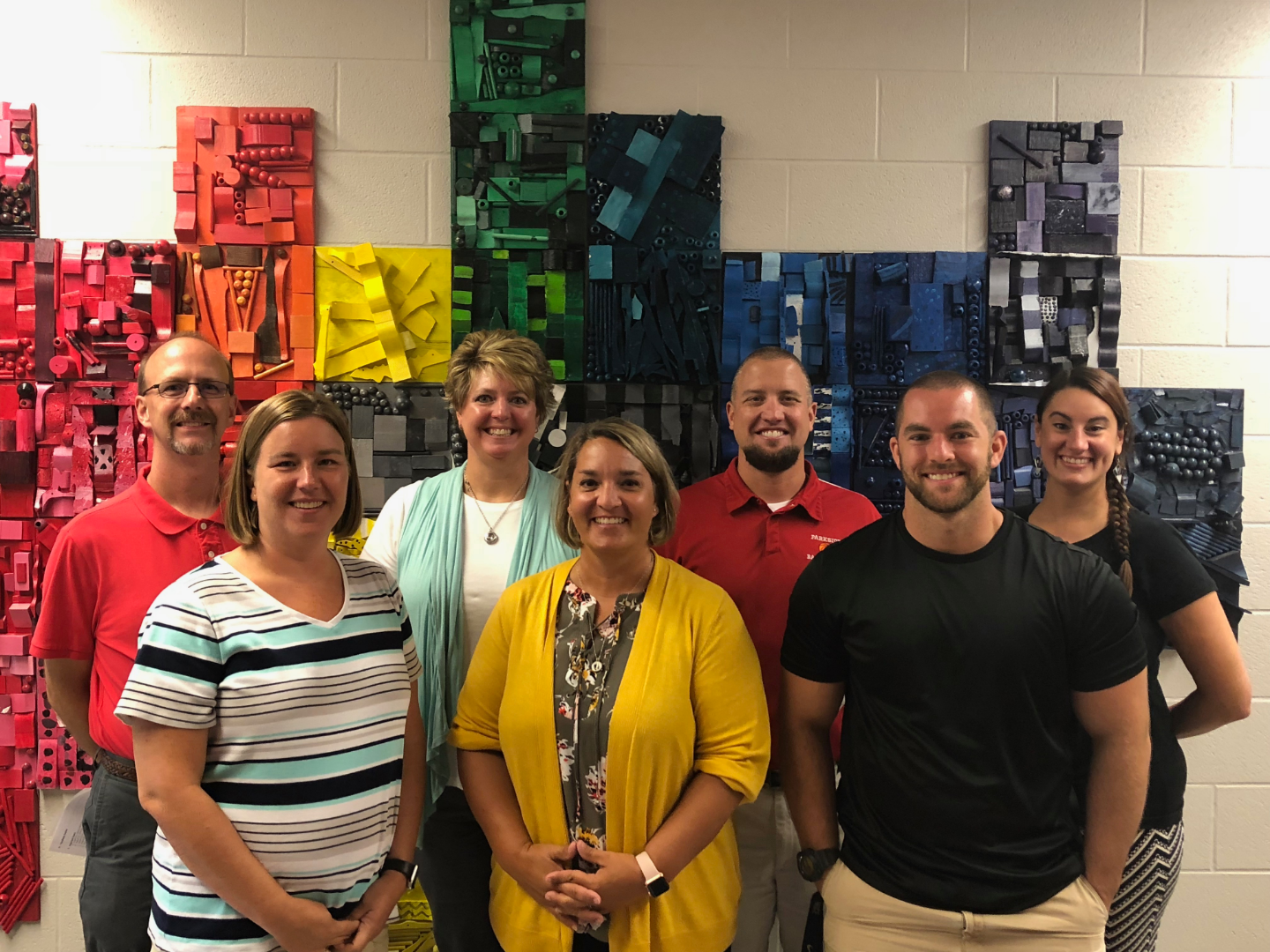 Mrs. Kolczaski

Physical Education

Health

Mr. Miller

Physical Education

Mr. Guenther

Physical Education

Mrs. Verucchi

Vocal

Music Education

Mr. Whaley

Band

Music Education

Mrs. Jenkins

Art

Media Art

FACS

Computer Applications (6th)

Mrs. Budnick

STEM

Computer Applications

Computer Programming
Art: A trimester course offered at each grade level based on the elements and principles of art. The students will focus on the process of building their artistic behavior through 8 specific studio habits: Develop Craft, Engage & Persist, Envision, Express, Observe, Reflect, Stretch & Explore, and Understand Art World.
Band and Choir: Any student may enroll in Band or Choir regardless of musical proficiency. A two-week trial is permitted at the start of the year only, though students may also join or drop prior to the start of any trimester. Rehearsals are held during study hall, and grades will be earned. Attendance at all lessons, rehearsals, and performances is mandatory. Students must be passing all core courses to be eligible to participate. The director should be notified in writing to drop band at the end of any trimester. Failure to do so could result in a failing grade. No audition is required to join band or choir, but students may elect to audition for the elite touring groups: Jazz Band and Singing Raiders.
Computer Applications: A required trimester course in 5th and 6th grade designed to expose students to a variety of technology topics, including hardware recognition and function, research, keyboarding and desktop publishing.
Computer Programming: A 7th grade trimester course designed to teach students fundamental programming concepts and the role of computer science and scientists in today's world. Using block-based programming, students will build creative projects in multiple areas, such as music, art, social media and game design.
ESL: English as a Second Language offers instructional support for identified students who either first spoke a language other than English, come from a home where a language other than English is spoken, or speak in a language other than English. The ACCESS test scores are considered for identification and/or placement. The goals are to provide English Language Learners (ELLs) with instructional support and to develop proficiency in the language domains of listening, speaking, reading, and writing. The support emphasizes pronunciation, language usage, decoding, comprehension, and vocabulary strategies; and assists students in using English in socially and culturally appropriate ways. Informal and formal assessment consisting of curriculum-based assessments, teacher observations, and completed coursework are used to monitor the student's achievement and for course exit.
Family and Consumer Science (FACS): An 8th grade trimester course designed to help students develop a better understanding of relationships, sex education, parenting responsibilities, and consumer science.
GATE: The philosophy of Gifted Education is to provide for the academic and social needs of those students who demonstrate exceptional ability in academic studies, high-level thought processes, divergent thinking, and/or creativity, and would benefit from specifically planned educational services. In accordance with Illinois State Board of Education rules, gifted students will be identified using a rubric containing Objective Measures as well as Professional Judgment. No Parkside student will be eligible for review more than twice. Once determined to be eligible, students will remain eligible for GATE unless dismissed by parent request, or by the educational team for lack of task commitment. 6 th grade GATE students will be administered the In-View test a 2nd time in the spring to provide additional feedback to students and parents. GATE Entrance Protocol:  Step #1 - 4 th graders (and teacher-recommended 5th -7 th graders) will be pre-selected in the Spring using a variety of assessments, including MAP, Aimsweb, PARCC and teacher recommendation  Step #2 – homeroom teacher (or team) will complete a comprehensive rating scale to evaluate student skills  Step #3 – those meeting established cut scores will be administered the In-View test of giftedness and those meeting established cut scores will be eligible for enrollment into GATE.
Health: A trimester course for 5th (required) and 6th grade which helps students understand that good health affects school performance, their friendships, their looks, and their lives. The importance of avoiding risky behaviors and guidelines on how to do so will be discussed.
Media Arts: A 7th grade trimester course covering a variety of media design operations, applications, concepts, and communication. The students will use the iPads, digital camera, and computers.
Physical Education is mandated daily by ILCS, Article 5/27-5. Once enrolled in PE, a written notice from a physician (specifying the duration of non-participation) is the only excuse accepted for extended exemption from P.E. (BP 7:260). The following rules apply to daily physical education at Parkside: 1.A parent may excuse students from P.E. for up to three days with a written note. 2.Chewing Gum is NOT allowed in PE. 3. Students must use a school issued lock and all valuables should be secured in their locker. 4.Adequate care should be taken by students who wear glasses. 5.All injuries must be reported to the teacher immediately. 6. Students must wear a uniform purchased from the school, which should be laundered weekly. Failure to dress for PE may result in disciplinary action.
Stagecraft: An 8th grade trimester course designed to help students become more comfortable, expressive, creative, and articulate when presenting in front of people. Students will learn and engage in public speaking, theatrical performance, debate, literature reading, and improvisation activities.
STEM: A modular curriculum program which emphasizes Science, Technology, Engineering, and Math. Each of 15 modules engages students for seven sessions of computer-assisted learning. It is designed to address many different learning styles. Content is delivered through text, graphics, video segments and hands-on activities.