Welcome to Parkside School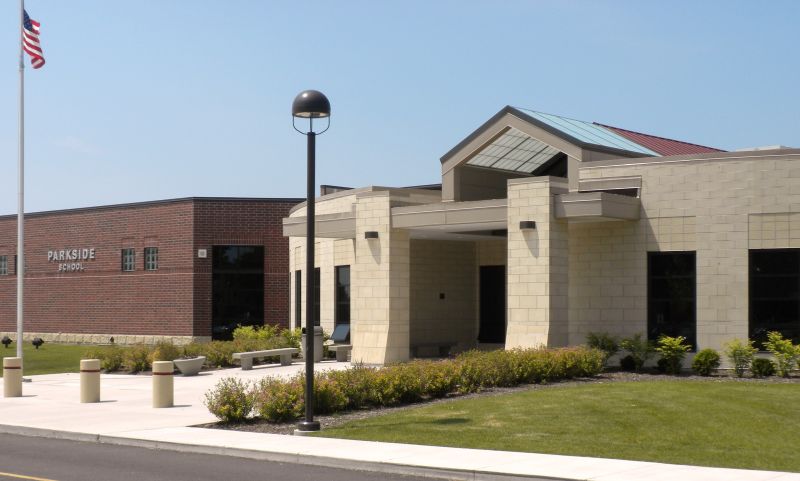 Parkside Middle School is in our thirteenth year serving students in grades 5 through 8. On behalf of our entire school community, I would like to welcome you to Parkside School. We believe you will find the site to be both informative and easy to navigate. It is updated regularly throughout the school year to complement the daily communication between home and school. Please look over the many areas of our site describing programs and opportunities for students, parents and other community members.
Our facility is home to approximately 400 students and 45 staff members. The district administrative offices are also located within the building. Parkside is designed with two distinct academic wings. One academic wing houses 5th and 6th grade students and the other 7th and 8th grade students. Each grade level is divided into four sections, with an average class size of approximately 24 students. Our highly qualified faculty consists of an assistant principal, social worker, 16 regular education teachers, 5 special education teachers, 2 reading specialists teachers, and 7 expo teachers in the areas of physical education, health, art, music, and technology. A strong support staff including a district psychologist, district nurse, media center clerk and 6 paraprofessionals round out the Parkside staff.
At Parkside, we pride ourselves in creating a student-centered learning environment that maintains high expectations for students and staff. Parkside offers a well-rounded curriculum using the Illinois State Standards as the foundation to provide the best academic, social and co-curricular experiences for everyone. We support and continue to implement the basic tenets of the middle school philosophy with our focus on providing adolescents with a challenging, encouraging and collaborative learning experience. We believe there is a place for every student to fit in and get involved, and we strive to help them identify and develop their interests. We also offer a large variety of extracurricular activities, including Student Council, Yearbook, Athletics, Fine Arts and academic endeavors.
As our technology mission states, Parkside School truly is "preparing today's students for tomorrow." Our staff and students will employ technology in various forms, such as computers, Smart Boards, Chromebooks and video equipment to access, analyze, and utilize information. We believe all children can learn and the effective use of technology will enhance the learning experience for each child to become a life-long learner.
We look forward to working closely with each family, and I encourage you to contact us via phone, email, or by stopping by if you have questions or need assistance.

Information
Parkside School
1800 Church Street
Peru, IL 61354
Phone: 815-223-1111 x4
Fax: 815-223-0285
Principal
Brent Ziegler
bziegler@perued.net
Assistant Principal
Wes Miller
wmiller@perued.net
Social Worker
Julie Miller
jmiller@perued.net
School Nurse
Kim Lamps
klamps@perued.net
Athletic Director
Wes Miller
wmiller@perued.net
Office Hours
7:30 a.m. to 4:30 p.m.

Daily Schedule
8:12 a.m. First Bell
8:20 a.m. School Begins
3:05 p.m. School Dismissal (Fridays 1:50 p.m.)