Parkside News
Upcoming Events
Click here to see the Monthly Calendar
Click here to view the Parkside T2 Newsletter
Parkside T2 Honor Roll and High Honor Roll Lists
Parkside Middle School
2022-2023 Honor Roll T2
5th Grade - Ryan Artos, Nora Bufmack, Isaac Cimei, Elijah Coba, Noah Elder, Brody Fletcher, Makenna Gift, Lilyonna Greathouse, Layla Haskell, Nicholas Hermosillo, Bently Hughes, Jackson Jeffries, Kenneth Kilanowski, Keelie Kostos, Chloe Kreider, Aiden Kurrle, Jose Larios, Jocelyn Lopez, Mina McFadden, Ayven Michael, Maddyx Nadolski, Rhyley O'Brien, Naleea Orsborn, Natalie Rebholz, Trevor Rutkowski, Maliyah Sedam, Gabriella Slover, Cameron Small-Jeffrey, Dwayne Starr, Ellary Taylor, Josephine Taylor, Jesus Valdes
6th Grade - Mason Beyer, Jazelle Black, Louis Budnick, Sibelius Buffo, Molly Bumgarner, Savannah Cadwallader, Keegan Doubet, Kyle Doubet, Gavin Espinoza, Aubrianna Gadison, Kahne Gentert, Kiley Gentert, Carylis Gonzalez, Harper Goode, Ethan Hedlin, MaKayla Hoffman, Chase Martin, Reagan Rahberg, Carter Spence, Gracie Tinkler
7th Grade - Julian Brand, Mia Chase, Alexzander Clappier, Ava Cumming, Anthony Dowding, Weisong Guo, Kailey Harper, Alexzander Higgins, Maci Horn, Aubri Lennox, Alexander Monjaras-Aguirre, Kacper Murawski, Vivianna Raccuglia, Isanya Roberson, Lilly Whitecotton, Ryan Zusefin
8th Grade - Pristeen Baker, Camryn Burrell, Brody Burris, Vizion Byrd, Sophia Chiero, Jayden Coffey, Jenna Coffey, Jareliz DeJesus, Paizley Donnell, Reese Fenza, Dylan Hanson, Gentiana Imeri, Lilly Larson, Elijah Lindenmeyer, Brooke Maynard, Matilda Mitchell, Tai Nguyen, Connor O'Flanagan, Shany Ochoa, Gertrude Rathbun, Kyle Spelich, Trever Spitzer Jr., Briannah Tarkowski-Doubet
Parkside Middle School
2022-2023 High Honor Roll T2
5th Grade - Allie Baumgarten, Camdyn Bentley, Emma Bilguun, Arabella Brown, Isabella Cardona, Caleb Cass, Rudy Dinges, Sienna Edgcomb, Vienna Fitzpatrick, Layla Hungerford, Brayden Lindbergh, Claire Lowery, Thomas McClain, Aubrey Miller, Briahnna Mosell, Nhathoa Phan, Olivia Rathbun, Abigail Redmon, Jema Scholle, Aly Smith, Brendon Suarez, Fiona Tran, Roddick Wagner, Harper White
6th Grade - Carter Barto, Joseph Bunzell, Romeo Cabrera, Kaleb Campbell, Anthony DelPivo, Henry Duttlinger, Graysen Huebbe-Ott, Carter Lester, Ryan Owczarek, Sara Shin, Gabrielle Smith, Trevor Tomlinson
7th Grade - Hope Antkowiak, Millie Bowers, Riley Buffo, Margaret Bumgarner, Ellie Draper, Aiden Dziarnowski, Arley George, Grayson Grzybowski, Griffin Kellett, Ella Lannen, Eva Larios, Matthew Mackrow, Parker McClain, Johnathan Michael, Mia Michaelson, JoAn Murphy, Miller Pangrcic, Madyson Putman, Riley Russell, Jalynn Sanders, Annika Skoog, Charlie Slusarek, Emma Spayer, Emma Tomlinson, James Zimmerman
8th Grade - Faith Ankiewicz, Michael Booker, Georgianette Buffo, Calen Cass, Eliana Cervantes, Charley Clifford, Alexander Crane, Adelyn Dawson, Geno Dinges, Noah Escobedo, Camden Greathouse, Gwendolyn Gress, Jacob Hall, Damon Hash, Carson Herman, Jackson Hungerford, Morgan Knowles, Emma Kolczaski, Brandon Lamps, Adelyn Leone, Christopher Mackrow, Paityn Maurice, Lucy Maus, Stuart McGunnigal, Tam Nguyen, Desmond O'Dell, Zayden O'Dell, Audrey Olson, Prit Patel, Andrea Peterson, Elleona Plum, Landon Puetz, Endrew Sell, Michaela Smith, Benjamin Swanson, Alec Tomsha, Shayla Turczyn, Gianni Verucchi, Peyton Wilson
Congratulations to Shayla Turczyn and Brandon Lamps on being recipients of the John Ourth Recognition Award. Their leadership and positive attributes represent Parkside Middle School and the community of Peru.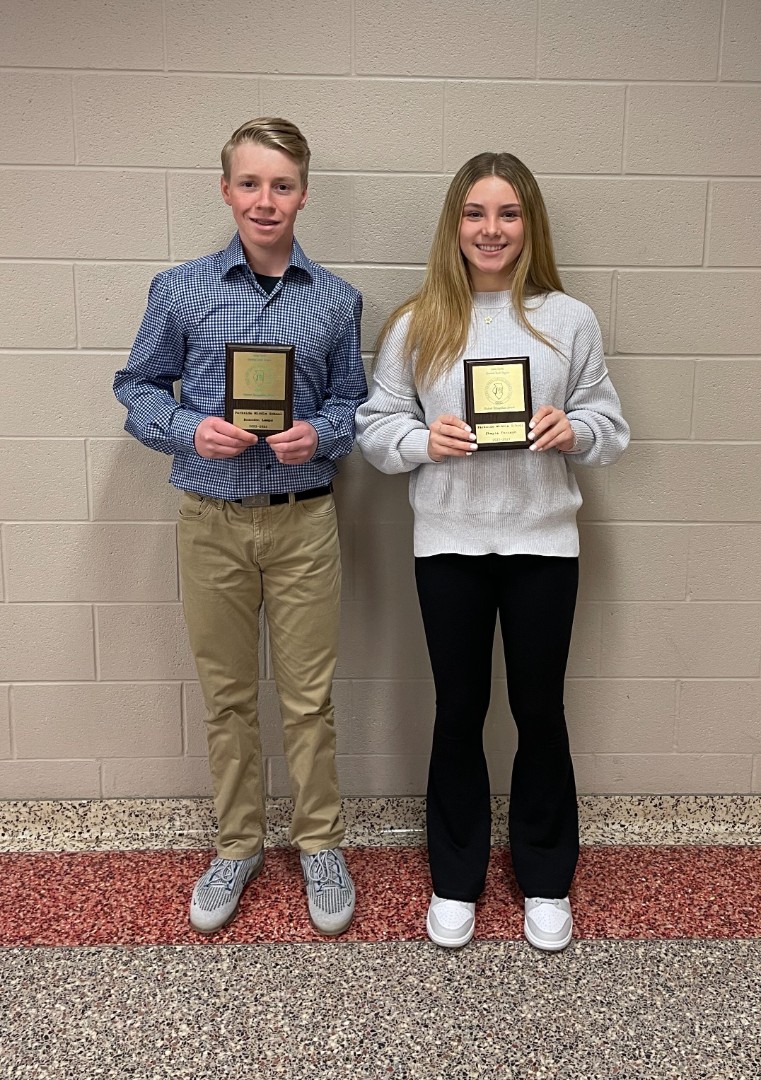 2023 8th Grade Graduation will be held at 7 p.m.
on May 23rd in the Parkside Gymnasium.
Congratulations to the Parkside PBIS Students of the Month for April!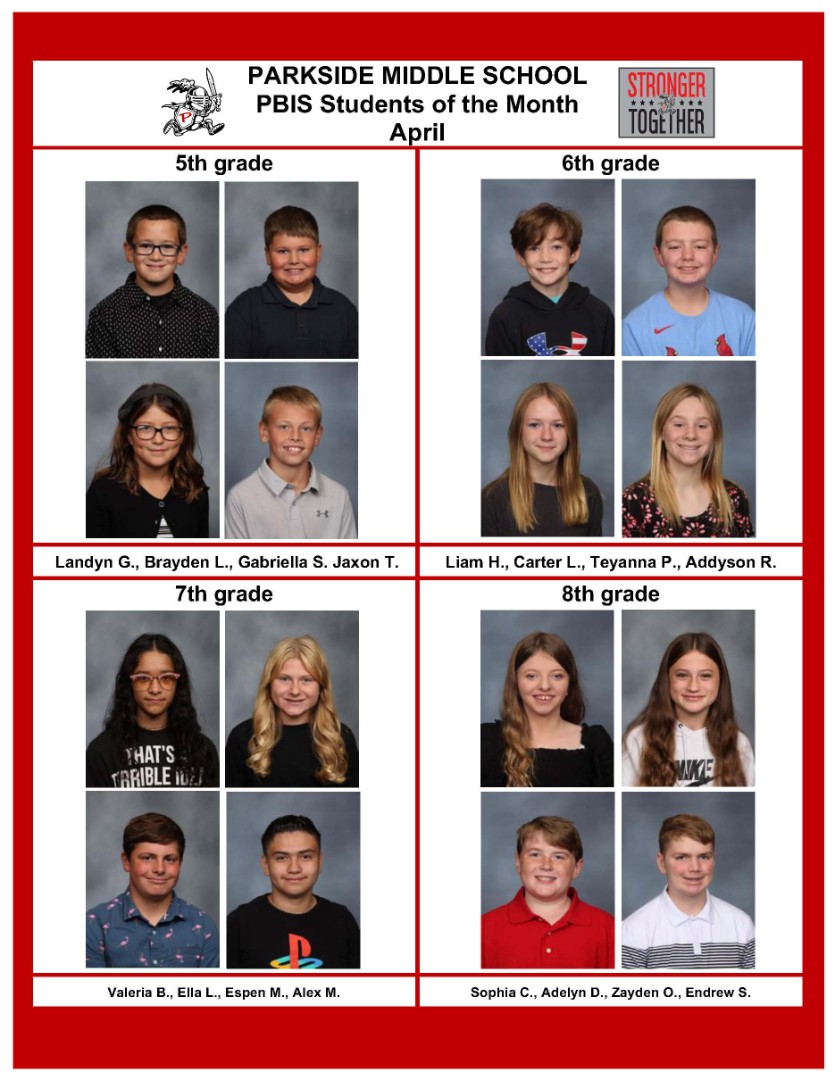 Congratulations to the Parkside Top iReady Math students for April!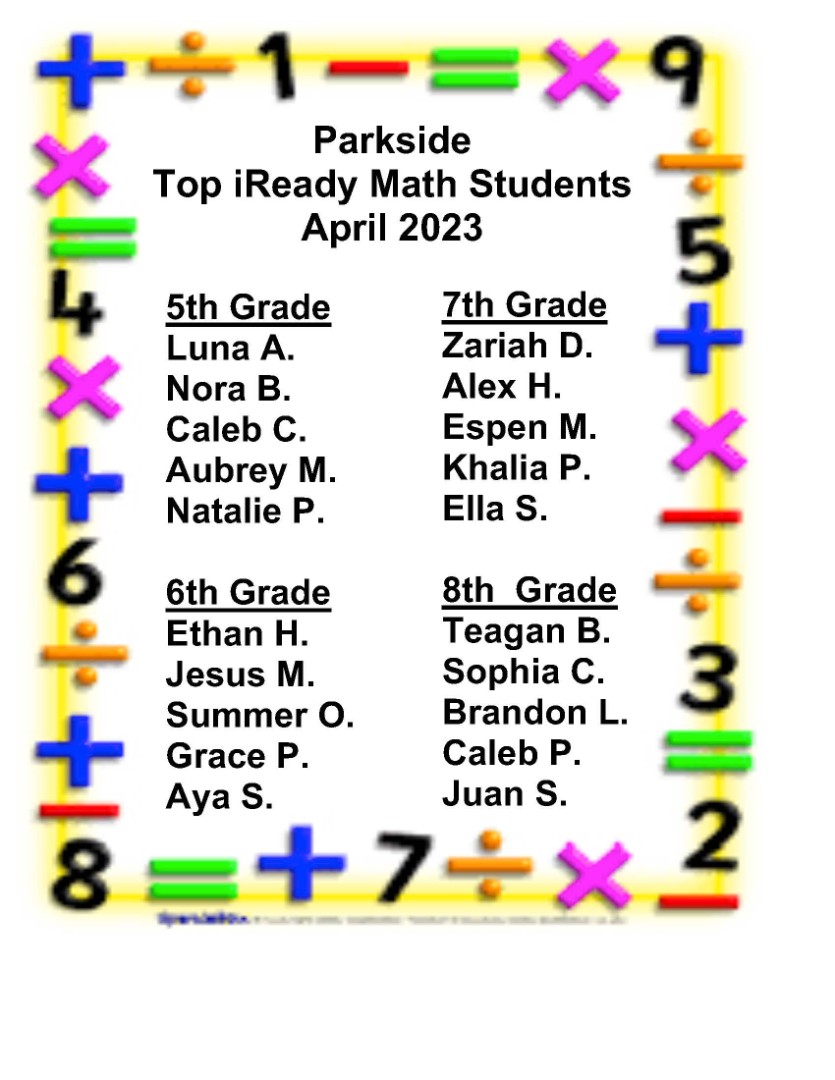 Welcome to our New Staff!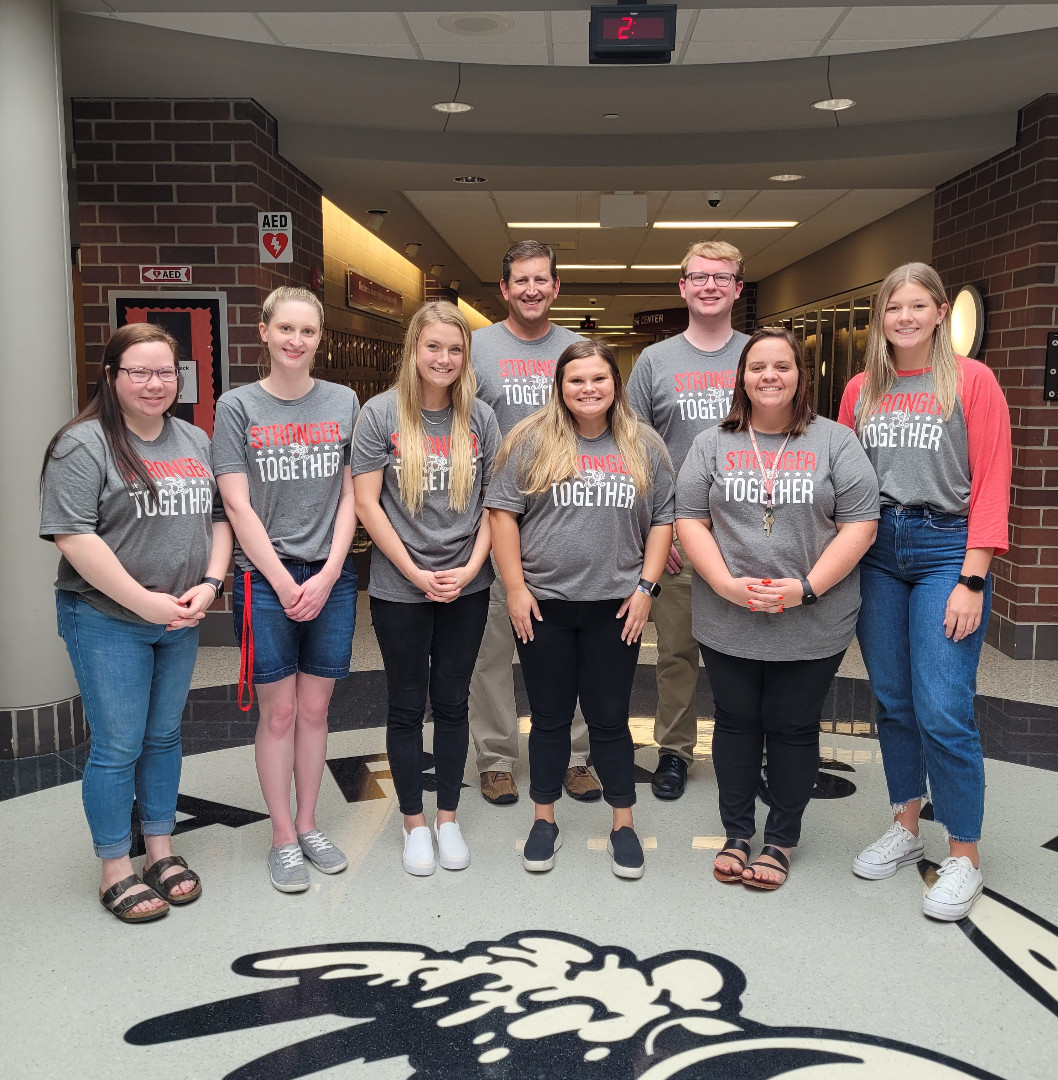 Ms. Baker - Paraprofessional, Ms. Joerger - Paraprofessional, Ms. Stuart - Life Skills Teacher
Mr. Ziegler - Principal, Ms. Bickett - 7th Grade Math Teacher, Mr. DeWalt - Music and Choir Teacher
Mrs. Berger - 8th Grade Math, Ms. Sondgeroth - Paraprofessional
Not Pictured - Mr. Bartolucci - Head Custodian
Check out 5th Grade!
In a few 5th grade math classes, students used the attributes of different quadrilaterals to attempt to gain admittance, from "security", into different clubs (parallelogram club, square club, trapezoid club, kite club, rectangle club, quadrilateral club, rhombus club). Quadrilaterals without all of the required attributes of the club were turned away, while those that met the club's attribute requirements, we're admitted.
Do you know which quadrilateral was able to get into every club because it met all of the attributes? If not, ask a fifth grader.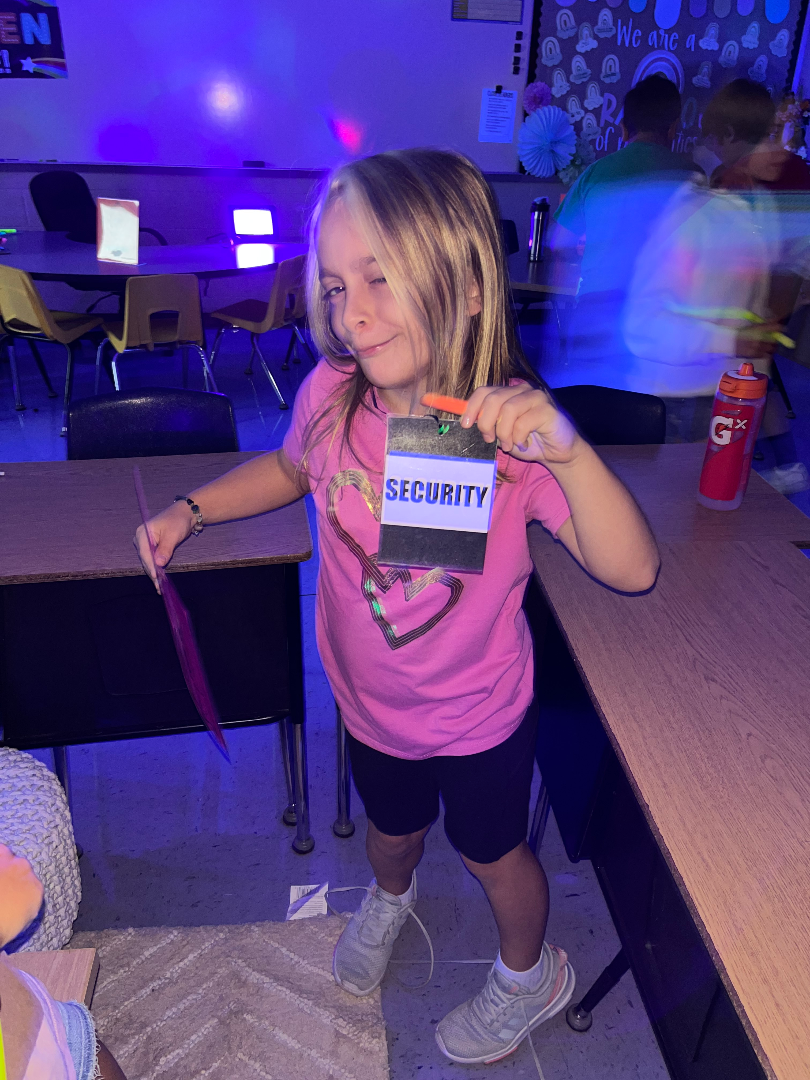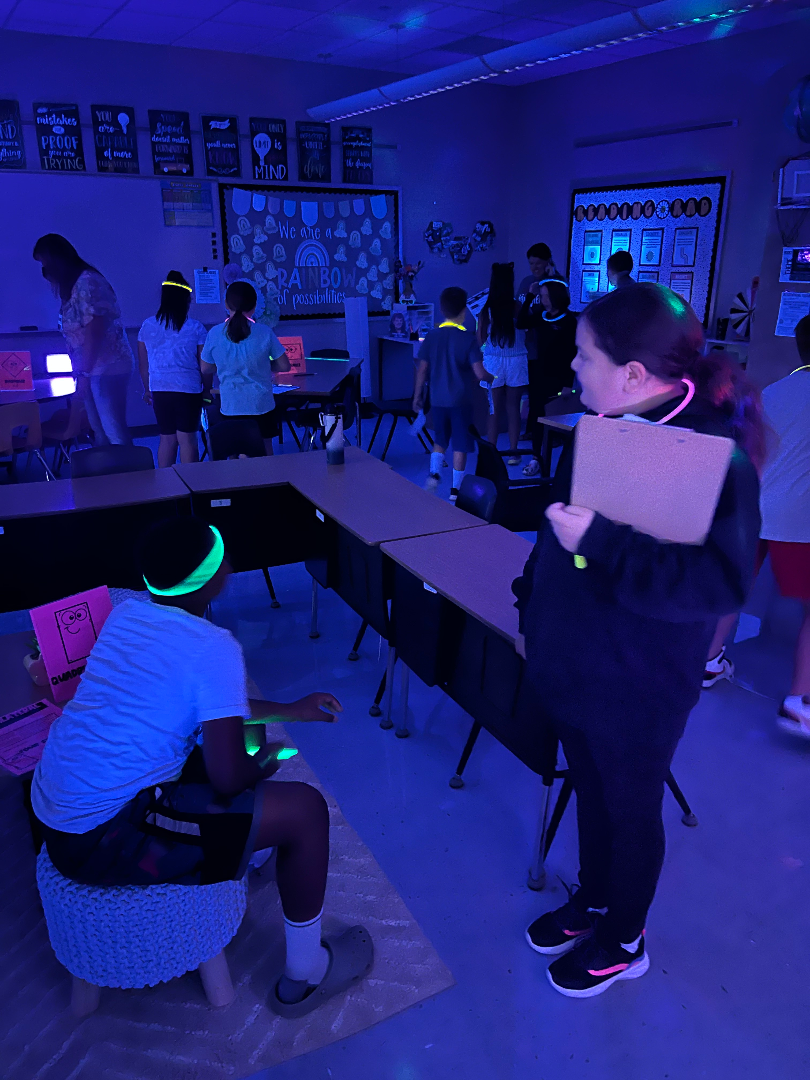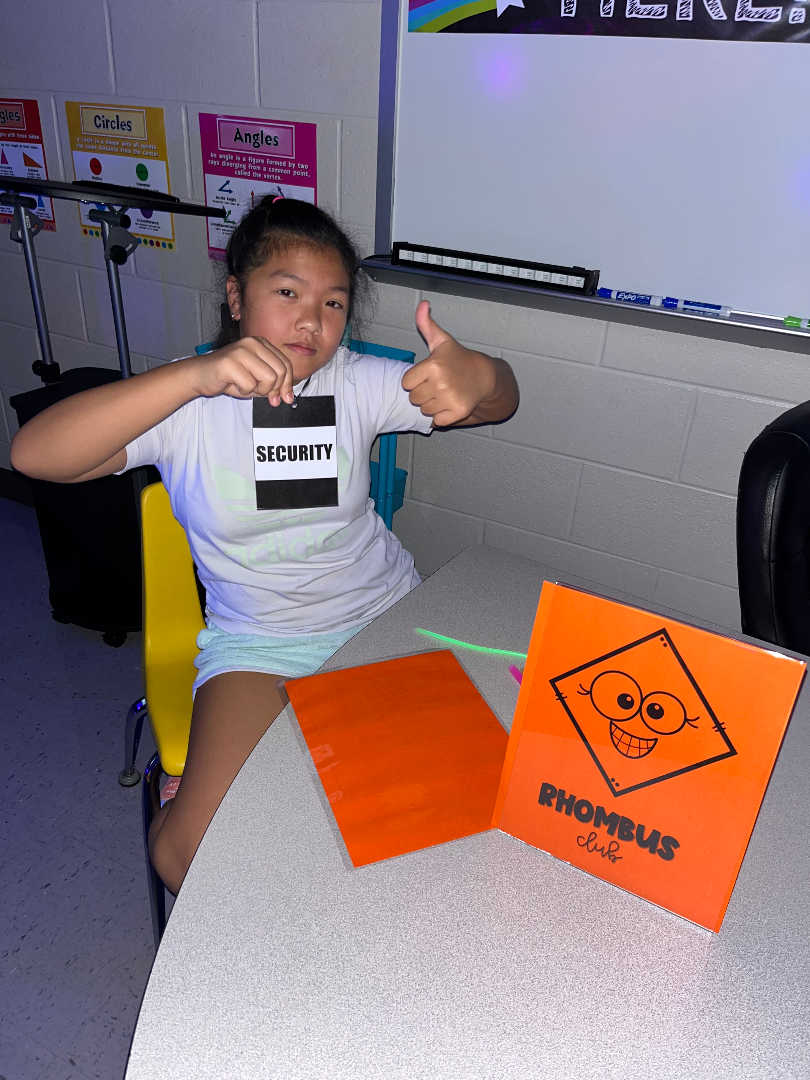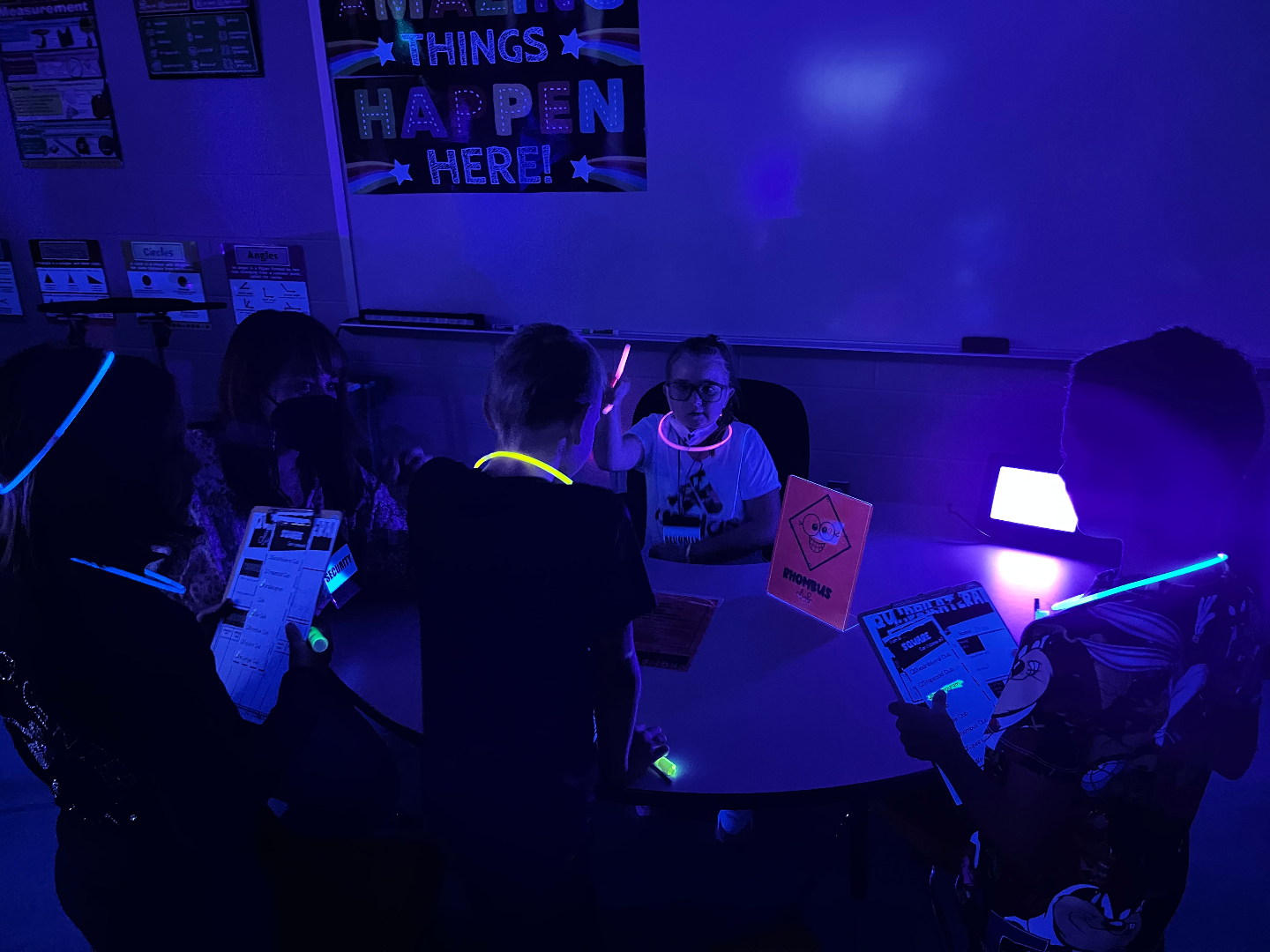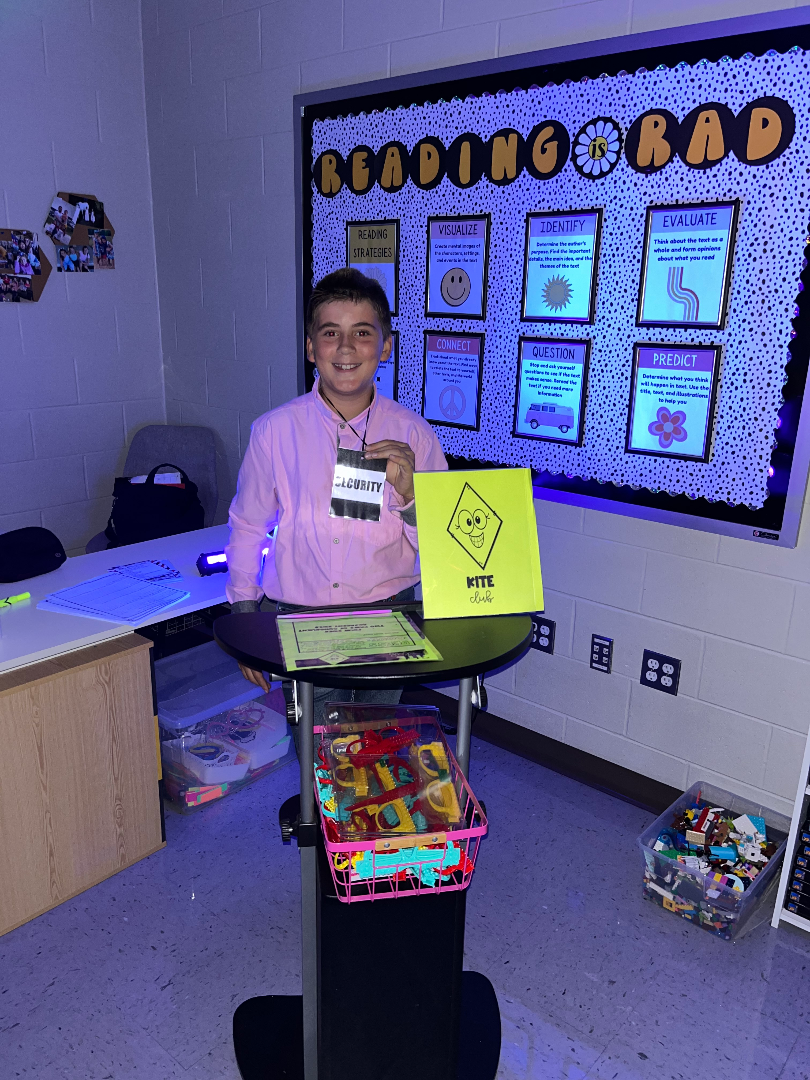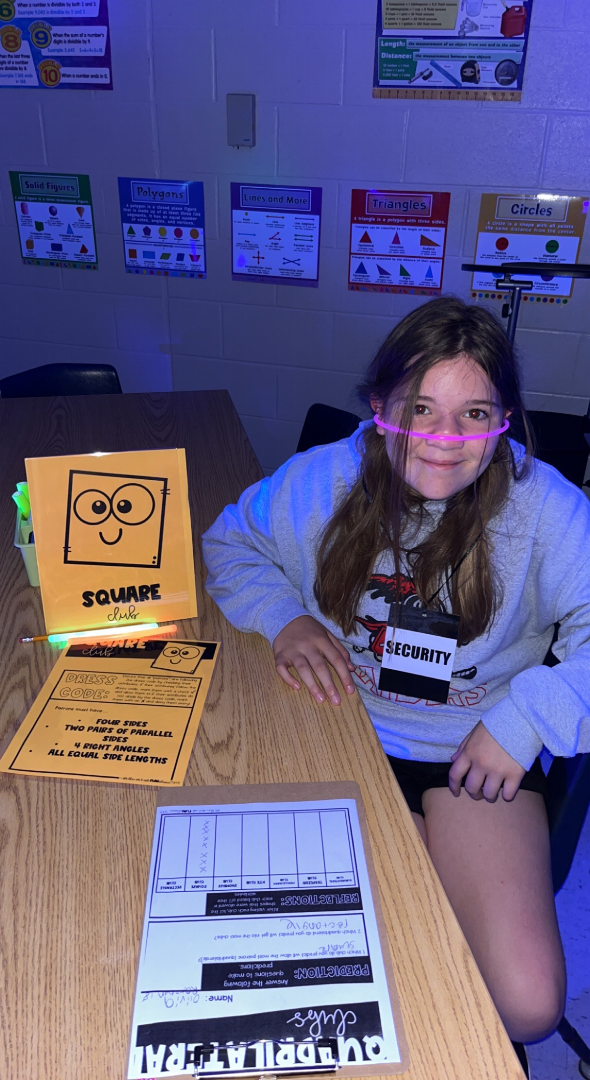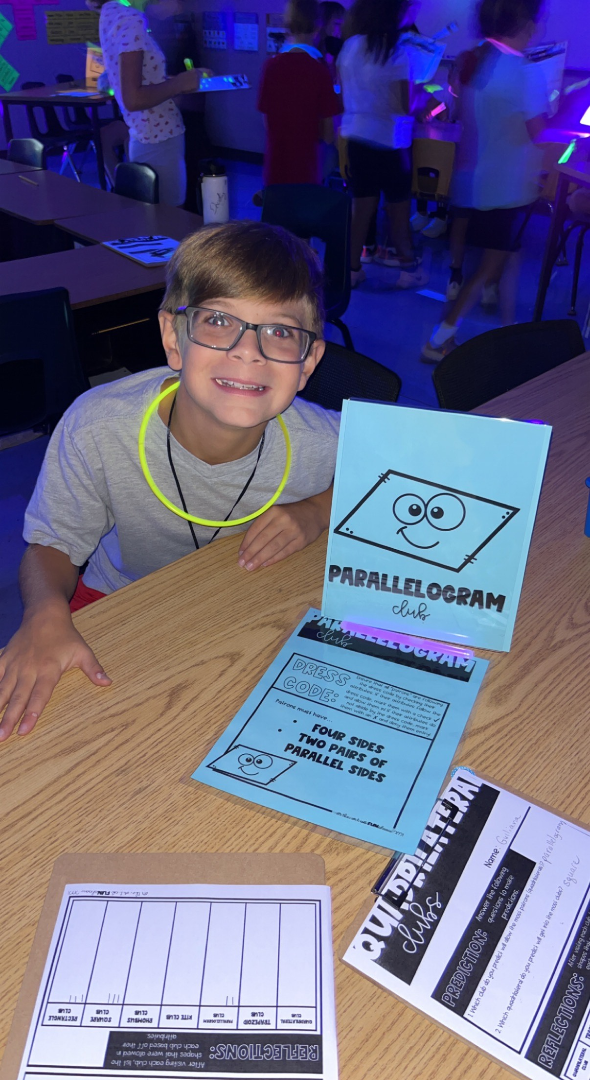 6th Grade Math did some team building!